Image Picker Texture
The Image Picker Texture resource allows you to get an image from your device's camera roll and use it as a texture.
As long as the Image Picker texture is being used in the scene, Snapchat will automatically show an interface allowing the user to pick from their camera roll. If you want a texture from the device's camera roll centered on a face, refer to the Face Image Picker Texture guide.
Create the Image Picker Texture
To create an Image Picker Texture resource, select Add New -> From Image Picker in the Resources panel.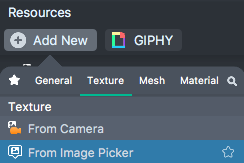 This will create a texture that you can now utilize like any other texture resource. It can be applied to a material texture field, added to an Image or Screen Image and more. As long as it is being utilized by the Lens, the UI to select from the device's camera roll will automatically appear to the user.
Warning
Lens Studio only supports using either a Face Image Picker Texture OR an Image Picker Texture in your project. You can't use both. When trying to add both in the Resources panel, Lens Studio will show an error and prevent you from adding.
Preview Image Picker
When an Image Picker Texture is used in your Lens, a UI will automatically appear in Snapchat allowing you to select from photos in your device's camera roll. You can preview this functionality within Lens Studio by enabling the Show Snapchat UI button in the bottom left corner of the Preview panel. When enabled, you'll see the same image picker interface used in Snapchat pre-filled with example photos.