Object Tracking 3D
Object Tracking 3D allows you to attach 2D or 3D contents to objects found in the camera. Object Tracking 3D currently supports the tracking of the joints of one or more bodies.
The guide below walks through adding Object Tracking to any project. If you're looking to create 3D Body Tracking Lenses, we recommend taking a look at the 3D Body Tracking template.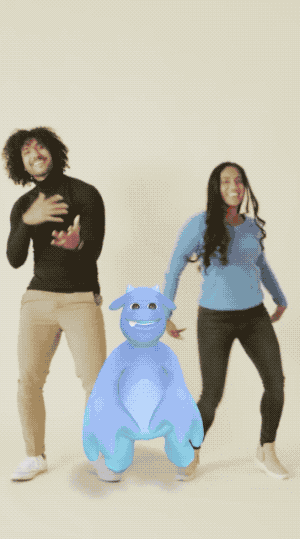 Adding Object Tracking 3D to your Project
The Object Tracking 3D component is a component that takes in a Tracking Asset that provides information to the component as to what it should track. Since the component will need a reference to a Tracking Asset, for the most part you will be adding the specific object to track via the Objects panel, rather than the component itself.
Let's take a look at one example:
Adding 3D Body Tracking
3D Body Tracking allows you to track the joints of one or more bodies in 3D. Unlike 2D Body tracking, it will track the rotation of the joints even as the user turns around.
To add 3D Body Tracking to your project, in the Objects panel, select + -> 3D Body Tracking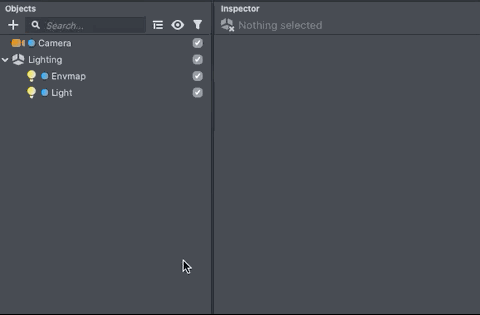 Notice that if you select the newly added 3D Object Tracking scene object, in the Inspector panel, you will find the 3D Object Tracking component.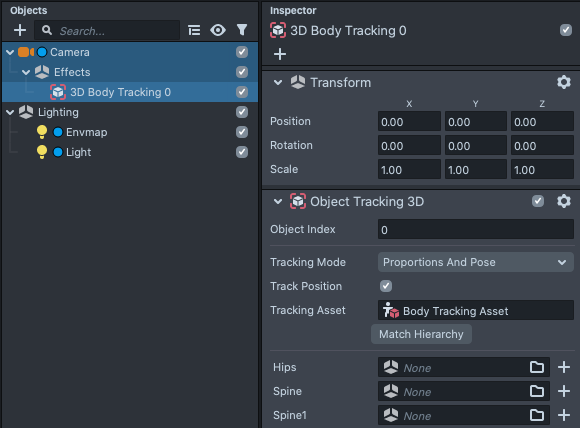 In this component, you'll find a Tracking Asset field, with a reference to the Body Tracking Asset resource (which is now also added to your Resources panel).

Customizing the Object Tracking 3D Component
There are several options in the component that you can use to customize how the component acts.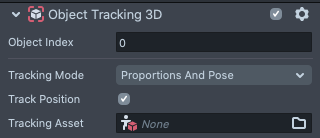 Object Index: Tells the component which object to track when multiple object is found in the camera. an Object Index of 0 means the first object, and an index of 1 means the second, and so forth.
Tracking Mode: Tells the component how the object being tracked should affect the attached scene object. You can choose Pose Only, if you do not want the attached object's proportion to be modified by the attached object's size, or Proportions and Pose , if you want the component to affect both attributes.
Track Position: Tells the component whether or not to change the position transform of the attached scene object based on the position of the object.
Tracking Asset: Tells the component what kind of object to track
Note: Each Tracking Asset has additional properties that can be modified to customize what the component does. You can take a look at how the Body Tracking asset work in the 3D Body Template guide.