Lens Visibility Settings
This guide explains how to adjust the visibility setting for your Lens.
Do not promote
By default, all live Lenses are public. This means Snapchatters around the world can find and use your amazing creations when they have the Lens's Snapcode, or if they find your Lens in Snapchat, for example in Lens Explorer or in search, or in Snap Camera.
If for any reason you wish to prevent Snapchatters from finding your Lens in Snapchat or Snap Camera, you may set the visibility setting of your Lens to Do not promote.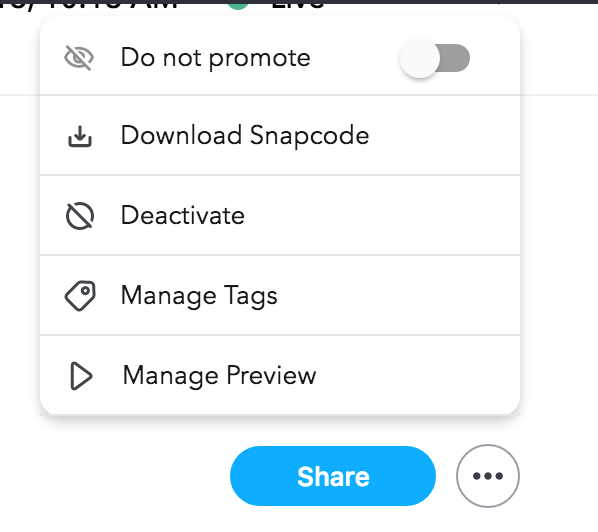 Configuring Visibility Settings in My Lenses
Any Lens can be set to Do not promote. To change the setting on a Lens that you do not want to be found in Snapchat or Snap Camera, follow these steps:
Find the Lens in My Lenses
Tap on the ••• menu (three dots)
Toggle Do not promote to on
Click Okay to confirm
That's it! This Lens will no longer be discoverable in Snapchat or Snap Camera. Please allow a few minutes for these changes to take place.
Tip
Though your Lens is no longer discoverable in Snapchat or Snap Camera, the Lens is still live. Anyone with the Snapcode or Lens link will be able to use your Lens and share it with others. To prevent anyone from using your Lens you must deactivate it.