Scan
In addition to unlocking Lenses directly from a Snapcode, Lens Link, or Lens Explorer, Snapchatters can also discover your Lenses using Scan.

About Scan
Long pressing the screen while the Camera is active on Snapchat triggers the Scan feature. Alternatively, pressing the Scan button on the AR Bar when the Lens carousel is open also triggers Scan. The Scan feature brings up contextual Lenses and tools that might be relevant to what the camera is seeing.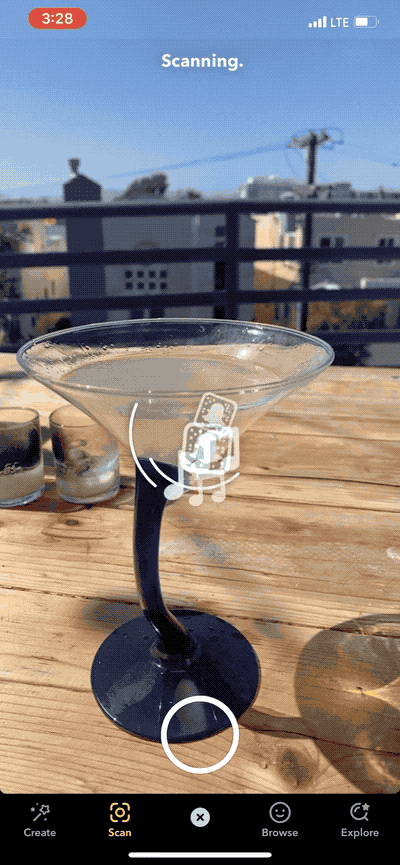 Enabling your Lens to work with Scan
Scan provides a new opportunity for Snapchatters to discover and play with your Lenses. There are several ways your Lens can be pulled up when a user uses Scan.
Marker Lenses
Lenses built using the Marker and Marker with Snapcode templates can be unlocked in the Snapchat camera through Scan. Snapchatters who encounter the marker in the wild can press and hold on the camera to initiate a scan to unlock your lens, bypassing the need to unlock via traditional mechanisms like Snapcodes, Lens Links, or Lens Explorer.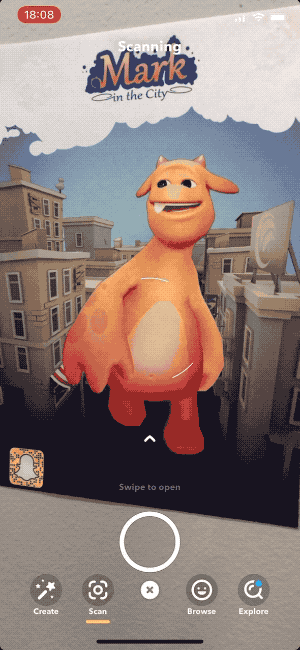 Once your marker image is detected in Scan, Snapchat will automatically factor your Lens into the Snapchatter's Lens Carousel ranking.
Take a look at the Marker Template guide to learn more about best practices when designing your marker to help ensure that your Lens can be unlocked through Scan.
Note: It may take up to 24 hours after submission for your Marker Lens before it can be unlocked via Scan.
Warning: Lenses with Do Not Promote can still be unlocked by Scan if the user has the right markers. Additionally, you should not use Snapcodes as Image Markers as Snapcodes themselves are already scannable markers. If you want to track content onto a Snapcode, use the Snapcode Marker instead
Scan Triggers
When submitting your Lens, you can optionally add Scan Triggers. Scan Triggers tell Snapchat what you would like your Lens to be related to upon Scan. By adding Scan Triggers to your Lens, you will add it to the list of possible Lenses that might appear via Scan.
For example, you can add the Scan Trigger "Sky" when submitting an Astronaut Lens. In doing so, when a Snapchatter points their camera at the sky and triggers Scan, it may open your Lens!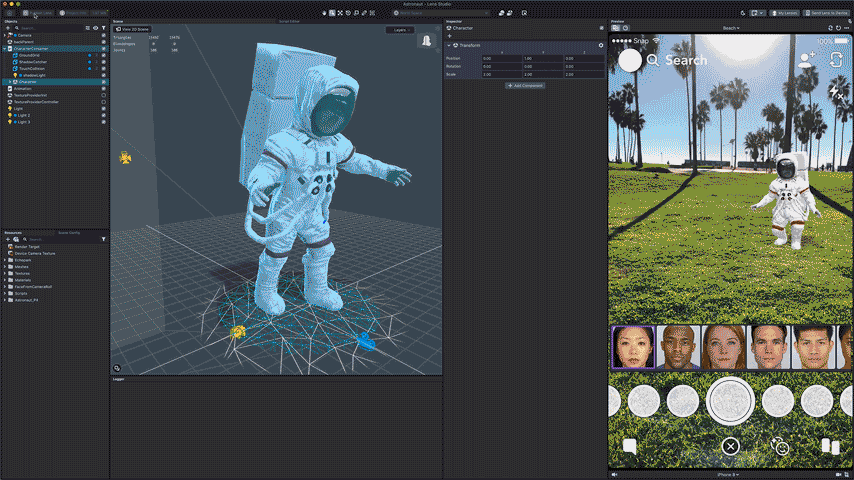 When Scan is triggered, we use machine learning approaches to automatically recommend and rank the most relevant Lenses.
Check out the Multi Object Detection template to create Lenses that allows you to detect some of the objects trigger-able by Scan!
Note: Right now it may take up to a day for your Lens with Scan Triggers to appear in Scan.
Tip: Tags are keywords that may help Snapchatters find your Lenses in the Search Bar. Scan Triggers are things that can be recognized by the Snapchat camera. If you want users to be able to unlock your Lens via Scan you need to associate them with specific Scan Triggers in addition to Tags.