Configuring Project Info
The Project Info settings window is where additional info, required for Lens submission, is configured. To access the Project Info settings window, click the Project Info button in Lens Studio's toolbar.

You should make sure the Lens project info is configured properly before submitting the Lens. Below are the various settings that are configurable through the Project Info settings window.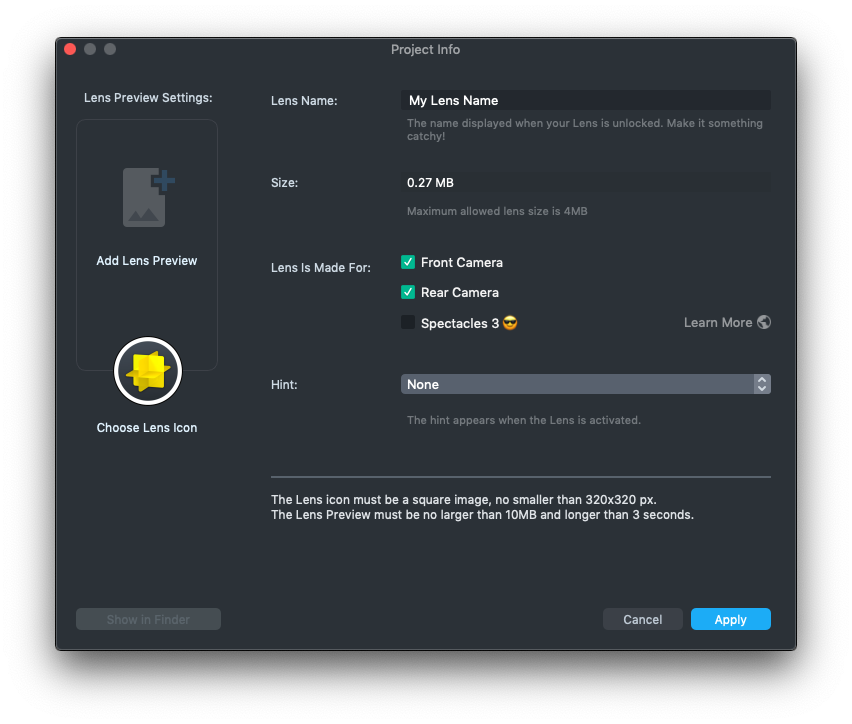 ---
Icon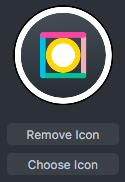 The icon for the Lens is packaged with the Lens here. Click the Choose Icons button and select an icon image. You can use the icon cropper to choose the region of your icon.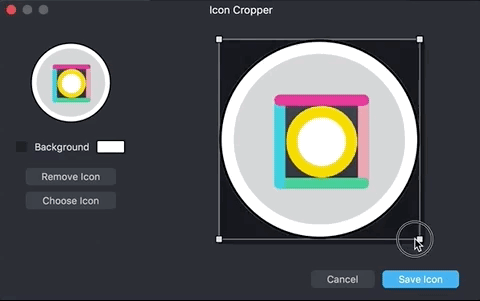 If your icon has a transparent background, you can enable the Background option and select a background color.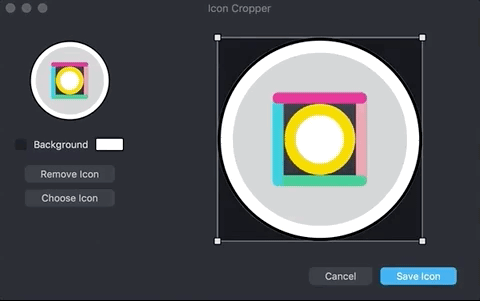 For information on creating an icon, follow the Creating an Icon guide.

---
Lens Preview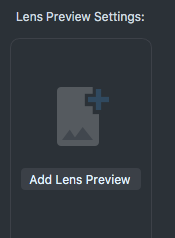 A Lens Preview is also packaged with your Lens. A preview shows off your Lens in Lens Explorer and will be visible to the public. Click on Add Lens Preview to pick a pre-made video or upload your own. For more information on Preview Videos, please refer to the Preview Videos guide.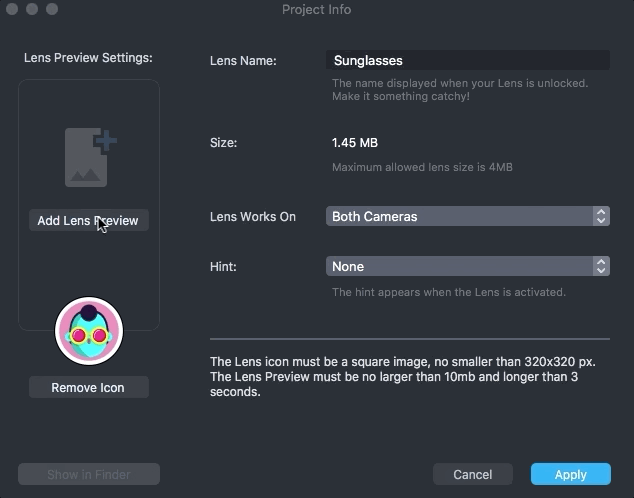 ---
Lens Name

The name of your Lens. This will be shown to users when they receive the Lens.
Warning
Your Lens name must be 18 characters or less, containing only letters, numbers, or spaces.
---
Size

The size of the compressed Lens that will be uploaded upon submission. The size limit for a submitted Lens is 4 mb but we advise staying at 2 mb or less for a quicker download. For more information, refer to the Performance and Optimization guide. For information on optimizing 2D images, see the 2D Optimization guide.
---
Lens Works On

The Lens Works On drop down allows you to set which camera needs to be open in Snapchat for the user to see the Lens in your carousel. Here you can set if you want your Lens to appear on the Front Camera (for Face Lenses), Rear Camera (for World Lenses) or Both Cameras (for Face and World Lenses).
Note
When you unlock a Lens, the camera will switch automatically to the selected camera and default to Face if Both Cameras is selected.
---
Hint

The hint is a suggestion given to the user to help instruct interaction. The hint appears as soon as the Lens is turned on and fades out after a set number of seconds. For more information, refer to the Lens Hints guide.
---