Preview Videos
A Lens preview video helps users visualize your Lens experience before unlocking the Lens. Think of it as a mini trailer for your creation. Previews make your Lenses more compelling and will be visible to the public.
Preview Video, Best Practices
When creating a preview for your Lens, keep the following best practices in mind:
Make sure the entirety of the preview video includes the defining elements of the Lens. For example, if your Lens is a face experience, show the Lens applied to a face
Sometimes, your preview video will be displayed as a static image. Because of this, make sure the first frame of your video is compelling and shows off the defining elements of the Lens
Keep your preview videos short and to the point
Make sure your preview videos are nicely lit
Avoid busy backgrounds as they might distract from the content of your Lens
While you can submit a static image for your preview, we recommend using a video
Do note that the Submission Guidelines apply to both the Lens and your Lens preview video
Keep preview videos at a 9:16 aspect ratio (vertical video)
Keep preview videos under 32 MB for videos (10 MB for static images)
Adding Preview Video, Pre Submission
There are two ways to add a Lens preview video, through the Project Info settings or My Lenses submission process.
Project Info
If you click on the Project Info button in Lens Studio's toolbar, you will see various settings to configure your Lens Project.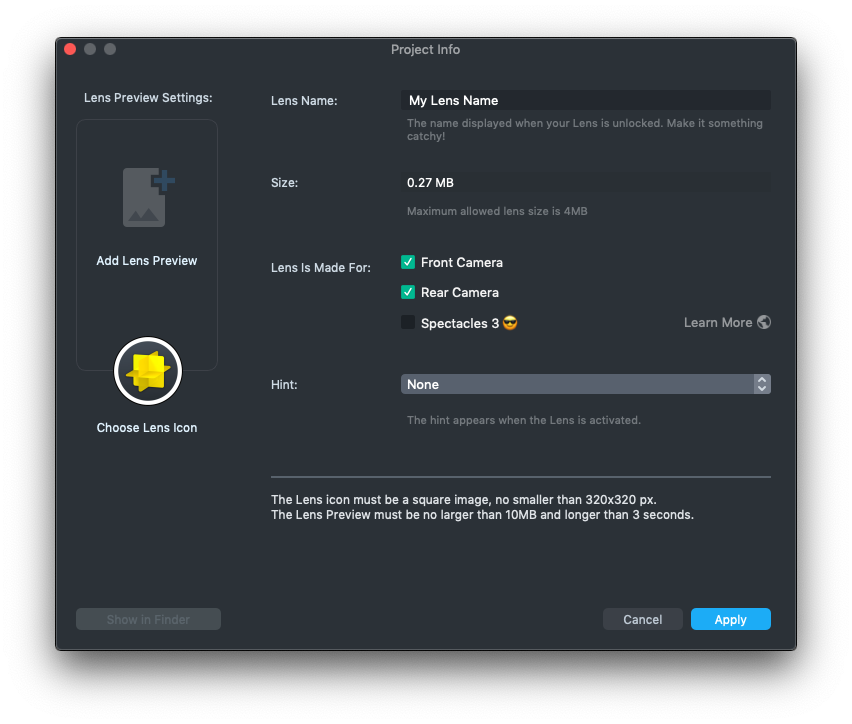 Click on Add Lens Preview and pick a pre-made video to apply your Lens to. You can also upload your own preview videos. This gives you a quick and convenient way to create a preview video for your Lens! For more information about the Project Info window, please refer to the Configuring Project Info guide.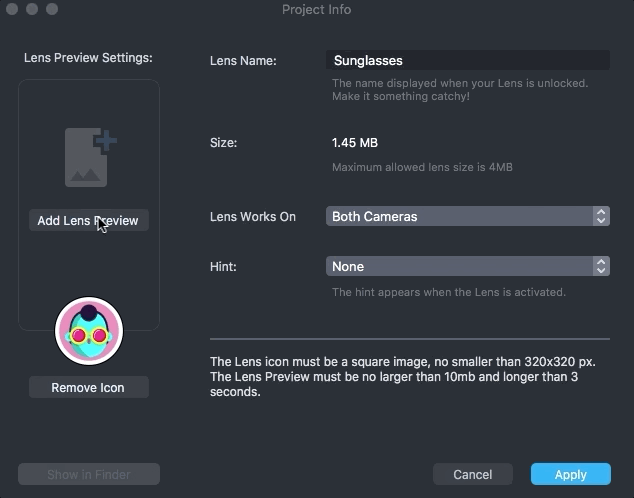 My Lenses Submission
You can also submit your Lens preview during the Lens Submission process. In the Lens detail section you can click Add Lens Preview button.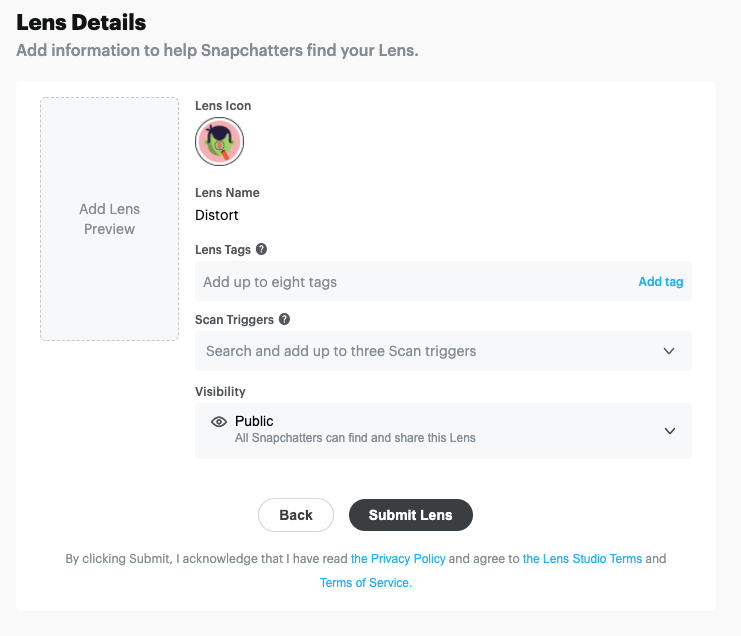 This will take you to the Lens Preview window. Click the Choose file or drag and drop button, or drag your file to the the box to add your preview.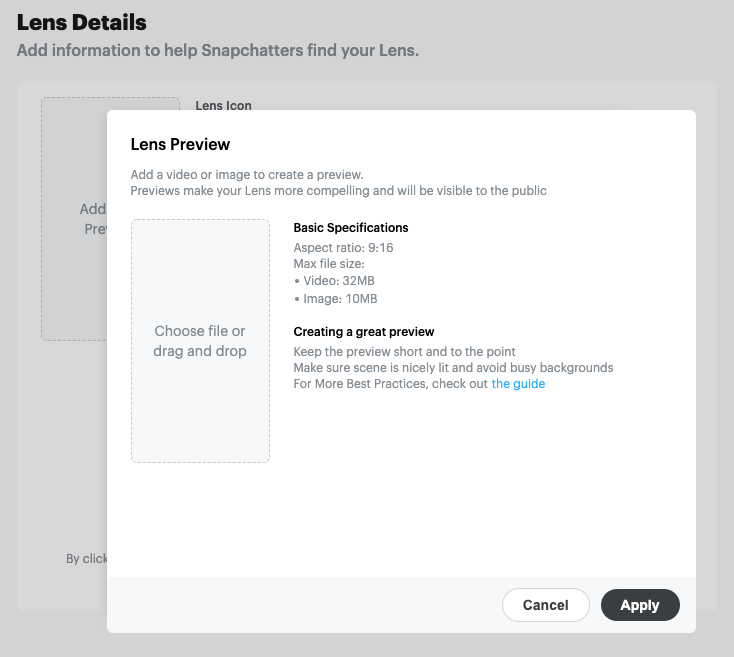 Once uploaded, the preview video will go into review. The message To be Reviewed will be shown until the preview video is approved.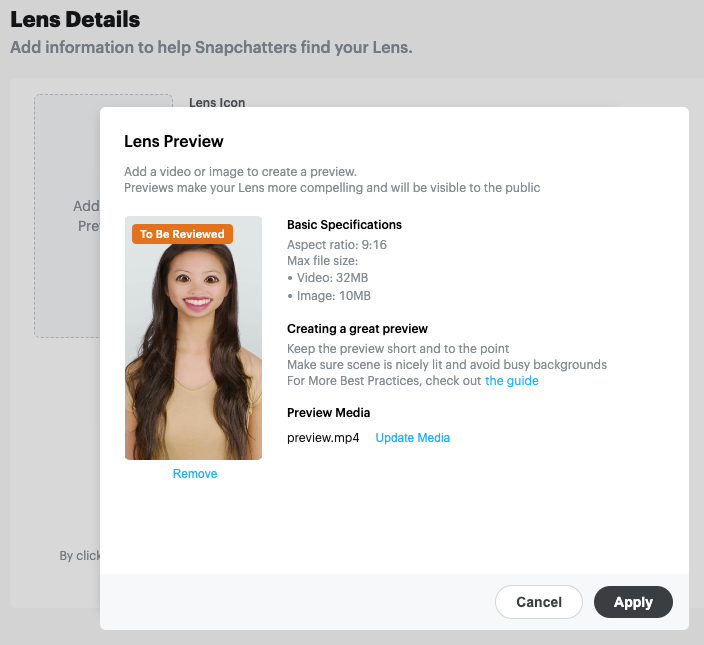 Once the preview has been added, click Apply.

Warning
If you have added your Lens preview in the Project Info, there is no need to add another one. Since one Lens can only have one preview, adding another preview video here will replace the one you added earlier in the Project Info.
Updating or Adding Preview Video, Post Submission
You can always submit your Lens and add the preview video later. This also applies to any Lenses submitted before the preview video functionality was added. To add or update a preview video after submission, first open My Lenses by selecting My Lenses in the top right side of your your Lens Studio project. Then, find your Lens entry and click it.

This will take you to the My Lens page. Click the Add Lens Preview button to add your preview.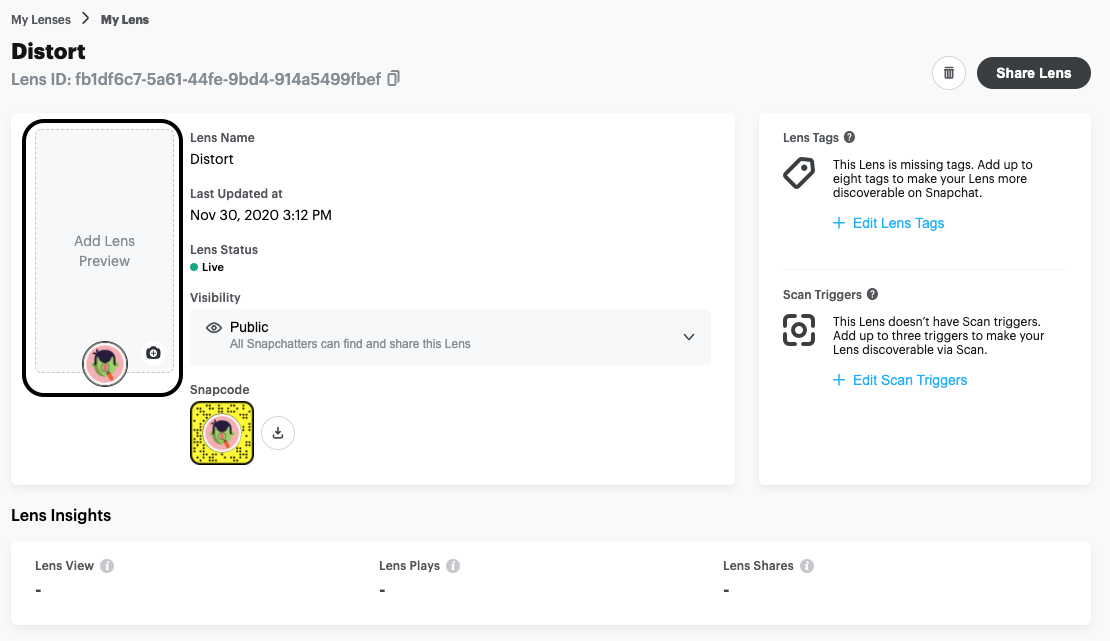 Like before, here you can add your preview video and then press Apply