Lens Hints
In Lens Studio you can define a hint to be shown to the user at the startup of your Lens. You can also show a hint when an event occurs or any time depending on your design. This guide will show you how to set up a startup hint. Check out the Scripting Hints guide for more complex hint use (like multiple hints or showing a hint on trigger).
Setup
To set a hint for your Lens, go to the Project Info button in the top left of Lens Studio and click it. The Project Info window will appear. Here, set the Hint drop-down to the desired Lens hint. For more information on the Project Info window, please refer to the Configuring Project Info guide.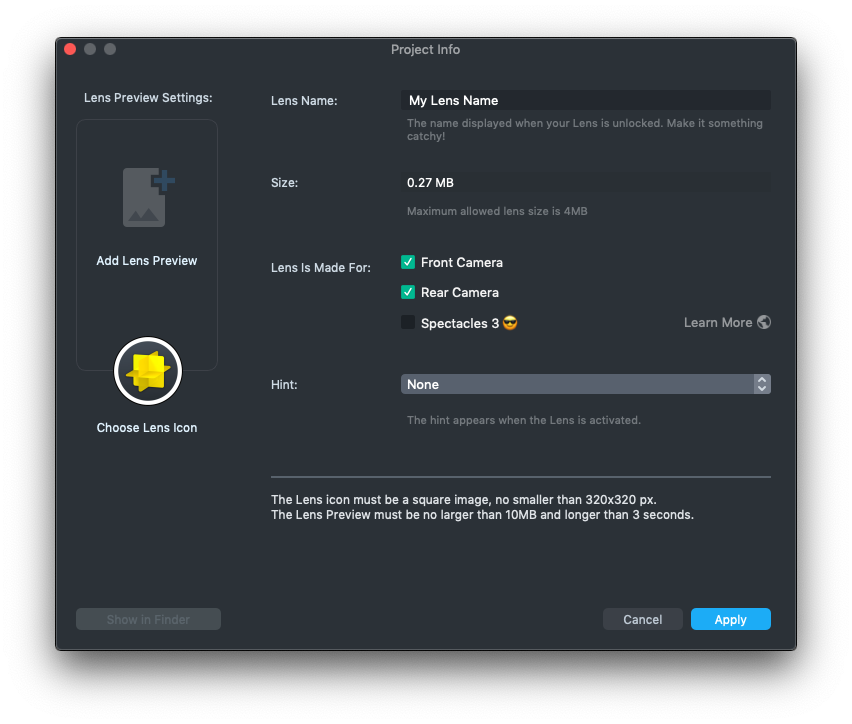 Tip
Hints will be shown to a user each time your Lens is activated by the user. They fade away after a moment. Hints are suggested when your Lens has some level of interactivity
Hints
Below are the available hints for use. These are the actual hints texts that will be displayed in your Lens.
AIM CAMERA AT THE SKY
BLOW A KISS
BLOW A KISS VOICE CHANGER
COME CLOSER
DO NOT SMILE
DO NOT TRY WITH A FRIEND
DRAW WITH YOUR FINGER
FIND FACE
FIND IMAGE
FIND MARKER
FIND SNAPCODE
KISS
KISS AGAIN
LOOK AROUND
LOOK DOWN
LOOK LEFT
LOOK RIGHT
LOOK UP
MAKE SOME NOISE!
MOVE YOUR HEAD
NOD YOUR HEAD
NOW KISS
NOW OPEN YOUR MOUTH
NOW RAISE YOUR EYEBROWS
NOW SMILE
OPEN YOUR MOUTH
OPEN YOUR MOUTH AGAIN
OPEN YOUR MOUTH VOICE CHANGER
PICK A FACE
PICK A PHOTO
PICK AN IMAGE
RAISE YOUR EYEBROWS
RAISE YOUR EYEBROWS AGAIN
RAISE YOUR EYEBROWS OR OPEN YOUR MOUTH
RAISE YOUR EYEBROWS VOICE CHANGER
ROTATE YOUR PHONE
SAY SOMETHING
SMILE
SMILE AGAIN
SMILE VOICE CHANGER
SWAP CAMERA
TAP A SURFACE
TAP GROUND TO PLACE
TAP SURFACE TO PLACE
TAP THE GROUND
TAP!
TILT YOUR HEAD
TRY IT WITH A FRIEND
TRY IT WITH YOUR REAR CAMERA
TURN AROUND
VOICE CHANGER
WALK THROUGH THE DOOR