Submitting Your Lens
Before submitting your Lens, make sure you have configured your project info. For more information about configuring your project info, please refer to the Configuring Project Info guide. Next, make sure your Lens meets the performance requirements detailed in the Performance and Optimization guide. Finally, make sure the Lens you are submitting meets our Submission Guidelines.

To submit, select the Publish Lens button in the top left corner of Lens Studio. This opens the My Lenses window. If you have not configured your project info, the project info window will be opened instead.

Log Into Snapchat
You'll now be prompted to log into Snapchat. The username and password are the same ones you use for your Snapchat account.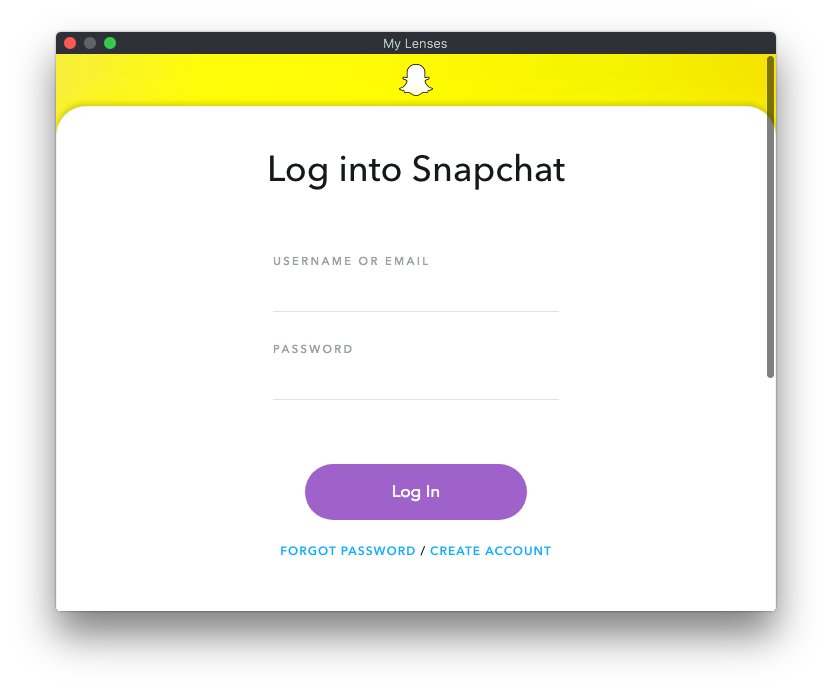 Next, you'll be prompted to authorize Lens Studio. Click Authorize.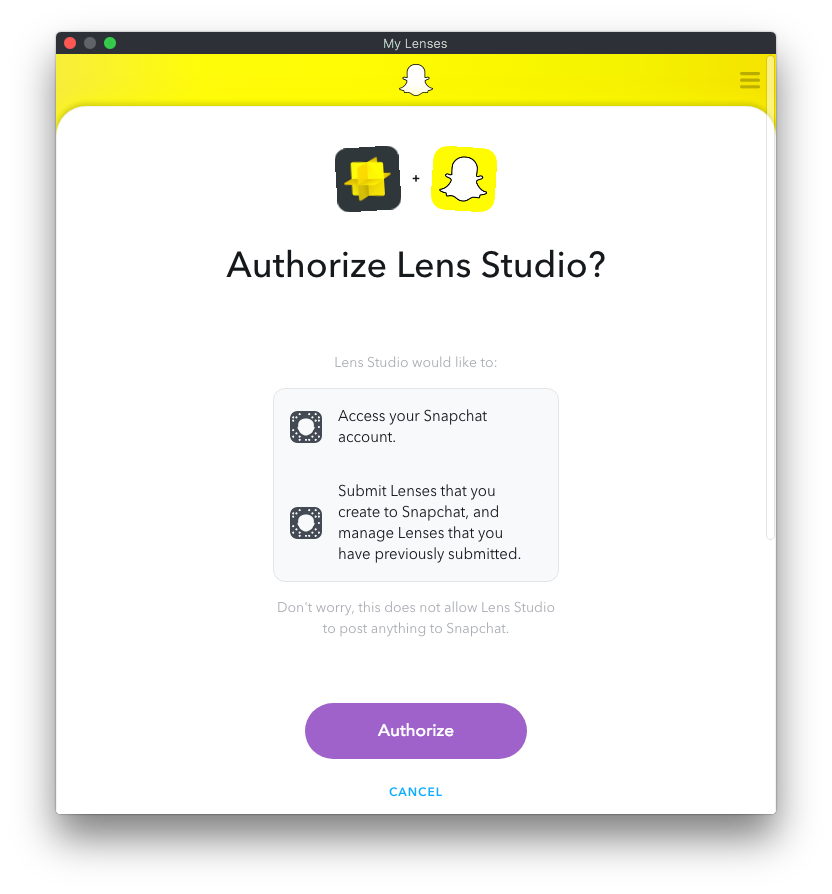 Once authorized, click Continue on the "Back to Lens Studio" prompt.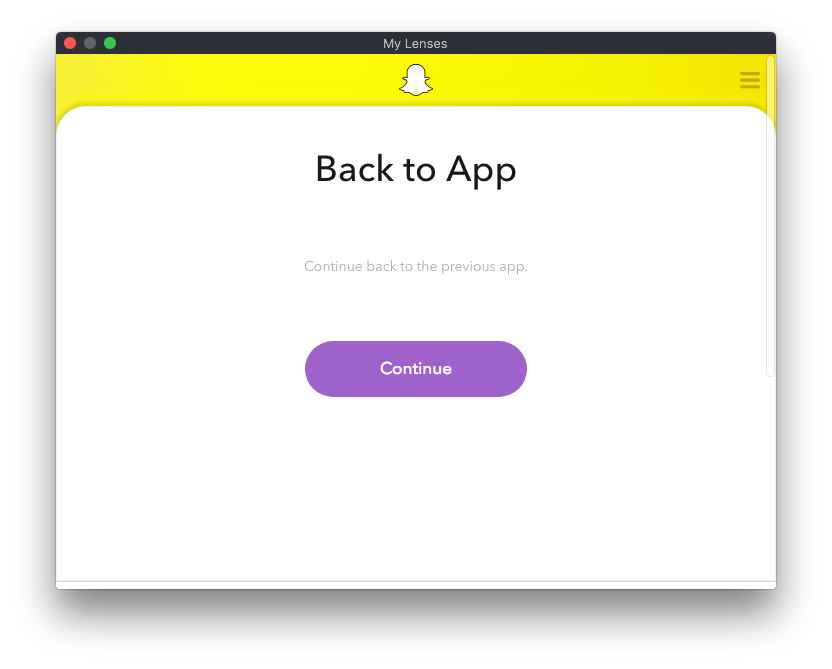 Confirm Submission
If you're logged in (see above), you'll be prompted to add information on your Lens.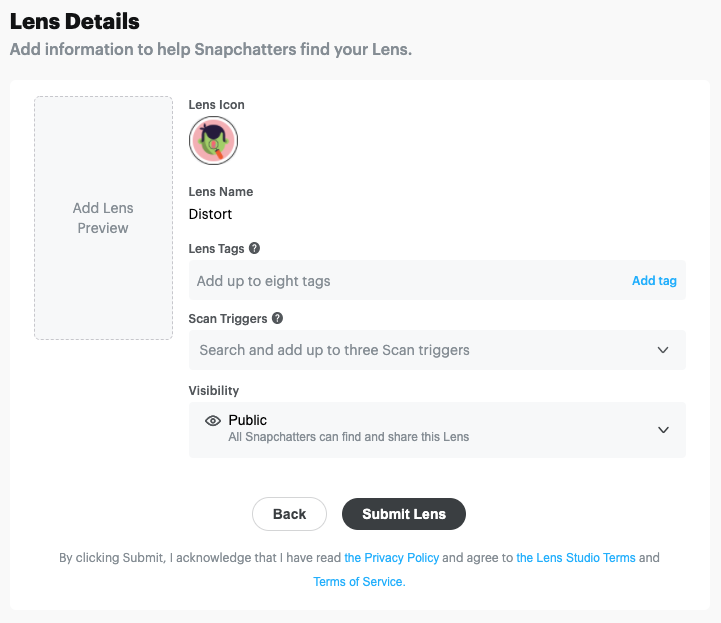 Here you can add Tags to help Snapchatters find your Lens, and Scan Triggers. In addition, you can set the Visibility of your Lens. Finally, click Submit Lens to submit your Lens.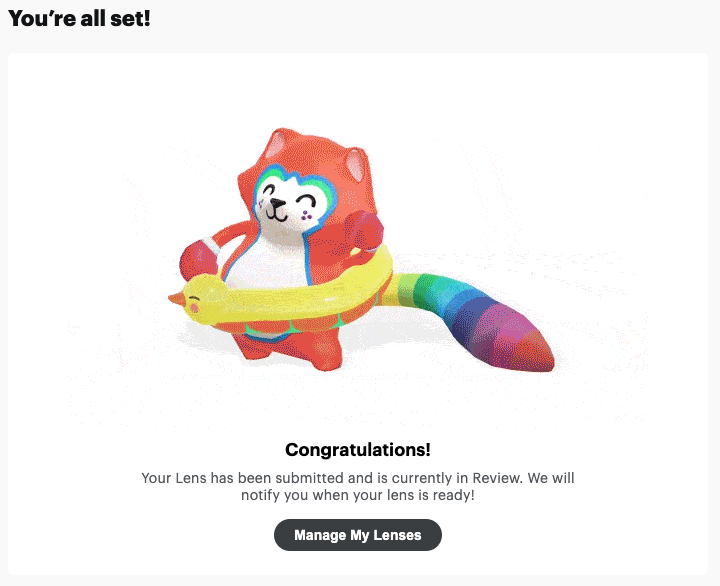 When you're done you will be presented a with a congratulation message where you can head to My Lenses where you can manage the new Lens, as well as all the Lenses you've already submitted.
Tip: Before submitting your Lens, we recommend creating a preview video. If you have added your preview video in the Project Info window, you do not need to add another one here. For more information on creating a preview video, follow the Creating a Preview Video guide.
Tip: If you have an Ad account attached to your Snapchat account, prior to the Lens Submission screen you will have the option to submit your Lens for Business instead of the traditional For Community purpose. You can not change this after the Lens has been published. Take a look at the Sponsored Lens guide for more information.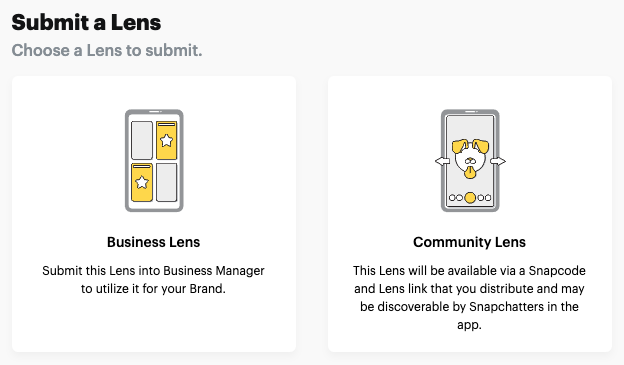 New Lens
If you're submitting this Lens for the first time you will receive a new Snapcode after your Lens has been successfully submitted. After upload, your Lens will be In Review for a short time and then it will go Live. See the section on Lens statuses below.
Update Your Lens
After you have successfully submitted your Lens and received your Snapcode you may want to make changes to your Lens project. That's easy! After you've made changes to your Lens you can click the Submit Lens button in Lens Studio again.
When you get to the Submission screen you will be asked whether you want to add a New Lens or Update an existing one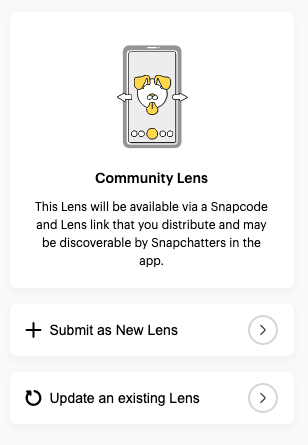 Here you can press Update an existing Lens, and you will be provided with a list of Lenses you've already uploaded.

Click on the one that you want to update, and you'll be presented with a screen where you can update the Lens information. Press Submit Lens once you are happy with the update.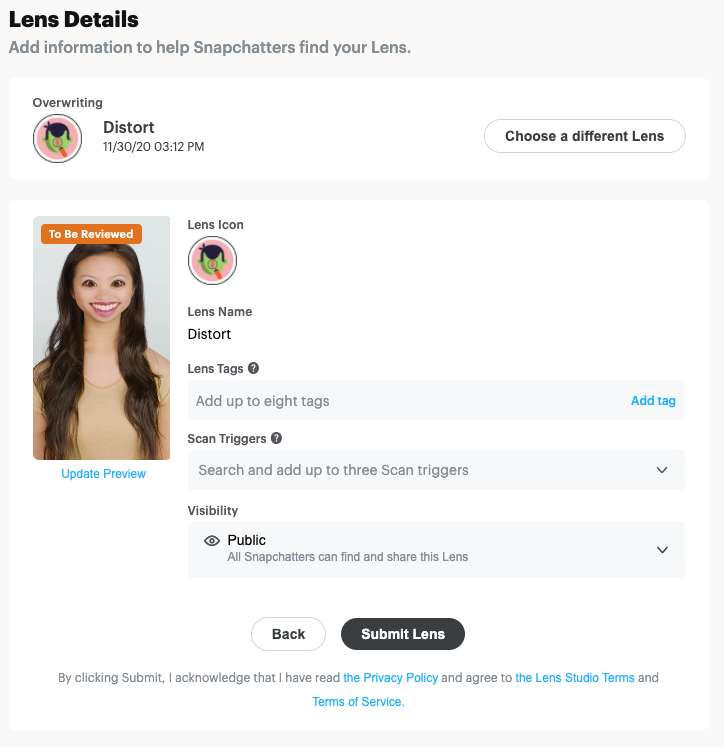 Every update will first enter the In Review status again. Don't worry! During this period the current version of your Lens will remain active and people will still be able to scan and unlock your existing Snapcode.
Note
If you aren't seeing any Lenses, then you may not have submitted any yet, or they may be In Review and cannot be updated.
My Lenses
Once you've uploaded your Lens, you'll be taken to the My Lenses portal. Here, you can see all Lenses that you've uploaded and monitor the submission process. You can also get to the My Lenses portal directly by pressing the My Lenses button in the top right of your Lens Studio project window.

Here you can search for your Lenses, get its status, change its details, as well as get its Snapcodes or Link so you can share it.
Lens Statuses
Below you will find a brief description for each state your Lens could be in. Your Lens' current status is displayed in the Status column of the My Lenses portal.
In Review
While the Lens is waiting to be approved, the Lens will show as In Review under Status. If this is the first time you've submitted this Lens you won't yet have a Snapcode or any Lens stats.

Live
Lenses that are live will show as Live under Status.

You can get a link to the Lens by clicking on the link icon on the right side next to the ... button. Additionally, you can download the Snapcodes for the lens by click on the ... icon, and selecting Download Snapcode,

For best practices when sharing, please refer to the Sharing Your Lens guide.
Offline
Sometimes you may want to take a Lens offline. To do this, click on the Lens, and under Visibility, choose Offline.

While a Lens is offline, the Snapcode will be deactivated and anybody who scans it will be shown an error message.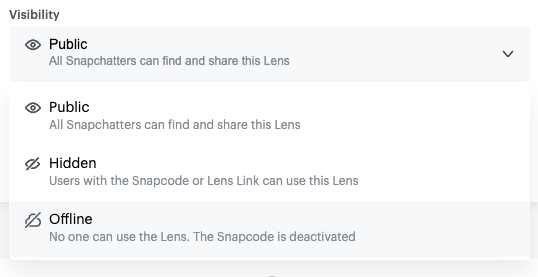 At any time, you can make it Live again by changing its visibility.
Note When deactivating (or reactivating) a Lens it can sometimes take approximately 10 minutes before the Snapcode stops working.
Invalid
Sometimes there might be a technical issue with your Lens.

If this is the case, the status of your Lens will show as Invalid. There will be one or more reasons shown to help you debug and fix your Lens. You can then submit an update. Please refer to the Submission Guidelines under "Technical Requirements" for some reasons why it may be invalid.


If the Lens has already been Live and it's just your most recent submission that is Invalid, the previous version will remain active and it can still be used by Snapchatters.

Rejected
If the Lens has been rejected, the Lens will show Rejected under Status.

For more information on why a Lens might have been rejected, please refer to the Submission Guidelines. When your Lens is rejected, it can no longer be unlocked.

However, if your Lens has been rejected you have the opportunity to modify your Lens Project, fix the content, and submit an update.

Lens ID
Each Lens has a unique identifier. This is useful for being able to distinguish different Lenses you have submitted if they have a similar name or icon. It will also be needed for possible support requests.
To copy your Lens ID go to My Lenses and select the Lens you need the ID from. Click on the copy icon and your Lens ID will be copied to your clipboard.

Related Guides
Please refer to the guides below for additional information: