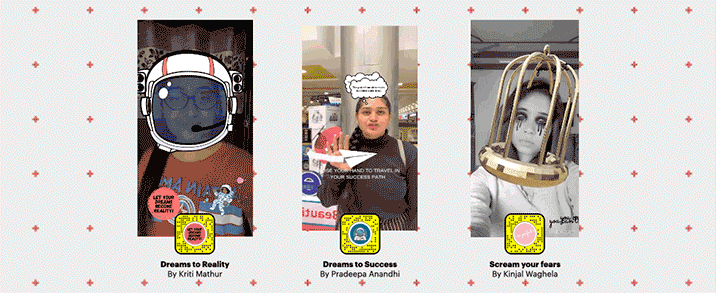 Congratulations to the winners of Snapchat India's From Dreams to Success Lensathon:
More than a thousand registrants (over 2/3 of them women) signed up for the challenge, with over 90% of registrants working with AR for the very first time. Participants submitted Lenses inspired by the International Women's Day theme, "Choose to Challenge," and the words of the late Indian NASA astronaut Kalpana Chawla: "The path from dreams to success does exist. May you have the vision to find it, the courage to get on it and the perseverance to follow it."
Participants also received tips and tricks from a few women verified Lens Creators from India:
Persica Picardo taught creators how to recreate her most popular Lens, Imagination, which incorporates segmentation and post effects here.
Niyati taught participants how to script interactivity into their next gaming Lens by incorporating collision detection of 3d objects here.
Gauri Kumar taught creators how to incorporate their 3D art into Spectacles 3 footage as well as adjust material properties and utilize Lens Studio 3.4's Asset Library here.
We hope you all feel motivated to seek out your next challenge and learn something new. Let us know if you need any help by posting in the Community Forum!
Happy Creating,
Team Lens Studio