Making AR has never been easier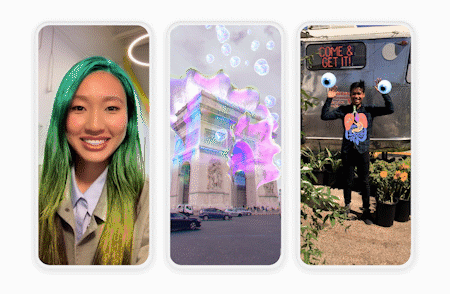 Lens Studio 2.1 makes it easier than ever to create powerful AR. Our new interactive tour breaks down Lens creation step-by-step, so even first time users can jump right in. We've also added start-screen content that provides helpful tips and updates.

Exciting New Templates
We're always working to enhance your creative palette with new templates and features. Be sure to check our release notes for the full list of new capabilities.
No bones about it, it's here! Track 2D images to necks, shoulders, and elbows to create sweet joint collabs!
Track that pretty face onto a video!
New hair who dis? Switch things up with fresh tones from root and tip!
Put your face on the easy way with AR lip gloss, blush, eyeshadow and more.
Ready, set, customize! Create Lenses that count down to specific dates and add celebratory 3D hats and glasses.
Jazz things up with customized particles that segment behind the user's head – Decorate with headers, footers, and post-effects.
Landmarkers, ahoy!
New Landmarkers are popping up all over the world. Experiment with new locations like the Gateway of India and the Leaning Tower of Pisa, and check the Landmarker downloads page for a full up-to-date list.
Find Us On GitHub
You can access our Lens Studio Templates on GitHub and add your own, too.
Be sure to use the "lens-studio" tag so others can discover your work and get inspired!
That's all for now. We can't wait to see what you make.
Happy creating!
Team Lens Studio