Snap Stars X OLCs Make Moves Together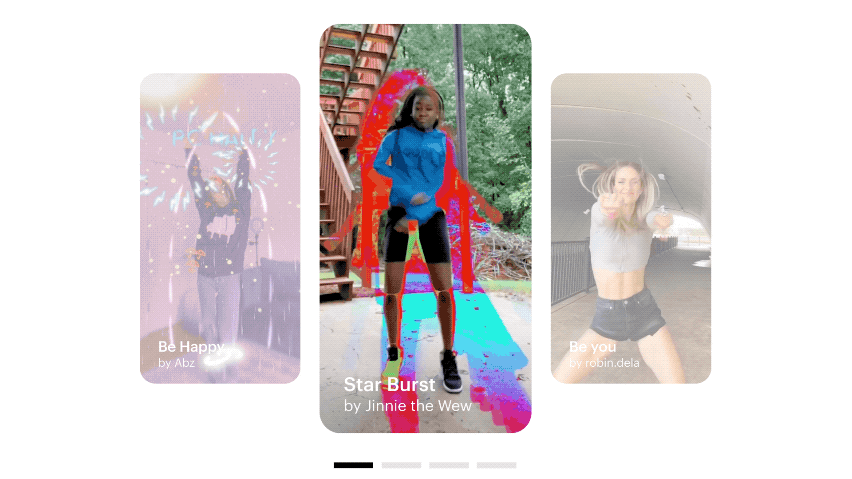 To help us launch Lens Studio 3.1's 2D Full Body Tracking feature, we teamed up 4 Snap Stars and 4 Official Lens Creators to create Lenses that move with you. Knowing Snapchatters use our Lenses across multiple platforms, this partnership utilized our newest feature to level up dance challenges.
Jye Trudinger and Jalaiah Harmon drew inspiration from Jye's Lens Trails — a Lens which amplifies and accentuates your movements. In honor of Jalaiah's incredible choreography, Jye used 3D occlusion to create Star Burst—a vibrant animated rainbow that adds expression and depth to every move you make. "I love how AR gives you a completely new way of interacting with your phone and the environment around you", said Jye.
Max van Leeuwen's Lens Alone is the perfect compliment to Loren Grey's aesthetic. After experimenting with a few styles, Max landed on using motion graphics and custom materials to create a Lens that is not just fun to dance to but also enhances every movement.
Robin Delaporte worked with Sarati to create Be you, an uplifting Lens that provides the positive message of 'be you' as well as allows you to change it to whatever empowers you, as you move and dance around. We can't think of a more inspiring way to use 2D full body tracking than to support and love one another.
Abbas Sajad partnered with Dixie D'Amelio, to develop Be Happy, a Lens that is an extension of Dixie's new song "Be Happy". "I felt this was the chance for me to expand on the music video and stylize the emotions that Dixie mentions in the song," said Abbas. Designing everything by hand using Procreate, Abbas put a heavy emphasis on the environment and the Snapchatter's movements, creating a visually stunning and exciting Lens that enables you to control the weather.
This epic collaboration between Snap Stars and OLCs resulted in unforgettable Lenses that not only took Snapchat by storm, but elevated dance challenges everywhere.
To learn more about Lens Studio 3.1 and 2D full body tracking, check out our release here.
Happy creating!
Team Lens Studio