AR Creator Residency Program
At Snap, we're committed to supporting creativity and innovation in communities around the world. With that mission in mind, we're excited to announce our first AR Creator Residency program—a global initiative designed for artists and developers to explore new ways to bring their work to life with augmented reality.
Each month, we'll post a new residency project brief on this page, at which time creators can submit a proposal for funding. Successful applicants will receive a grant between $1,000 and $5,000 USD (depending on complexity and originality), and an opportunity to complete their project over a period of 4 weeks with support from Snap's internal technical and creative teams. This month, we're focusing on storytelling.
Share Your Story
Everyone has a story to tell. From animated shorts to digital comics, pop-up books, and more—AR offers a world of possibilities for immersive, interactive storytelling. Share your unique vision for a story you plan to bring to life with AR in Lens Studio!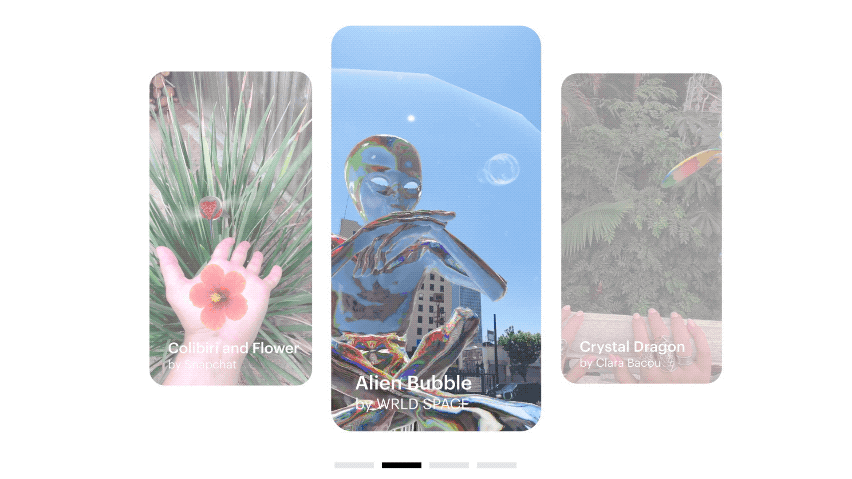 To apply for project funding, share your plans to create an interactive story with AR in Lens Studio. If your proposal is approved for residency, you can expect to engage with a Snap mentor through virtual office hours and receive expedited Lens Studio support. Final Lenses will be featured in Lens Explorer and considered for additional promotion. Upon completion of the residency, all participants will be considered for the Official Lens Creator program where members are granted a verified account and Creator Profile on Snapchat. OLCs also enjoy additional benefits like beta access to Lens Studio and potential revenue and partnership opportunities.

Key Dates
The application for project funding will be open until 11:59pm PST October 9
Successful applicants will be notified the week of October 19
The 4-week residency will run October 26 - November 20
Please note that due to volume of applications, we will not be able to provide feedback or status updates on all proposals.
Eligibility & Guidelines
Individuals and small teams are eligible to apply, however the grant amount will be determined by the project proposal and will not be adjusted based on the number of contributing team members.
Creators do not need to have direct experience in AR, but most successful applicants will have professional level expertise in at least one of the following areas:
Technical Art
Graphic Design
Machine Learning
Fine Art/Illustration
3D Modeling/Animation
Interactive Programming
Applicants must be 18 years or older and be comfortable speaking and writing in English.
Participation in this program does not establish or imply any current or future employment, service, contracting, or similar relationship with Snap Inc.
If you have additional questions about the residency program, send us a note at ar-creator-residency@snap.com.